Opening city flea market 6-13-15
Despite the weather there was a pretty nice turn out for this year's opening flea market. Many friends old and new were seen and met; and fed! The PFSP sold a lot of bratwurst, the rain can't stop us, or hunger!
Todd Miller Vice President PFSP
The rain didn't put a damper on the sale of brats, hotdogs, chips and soda. We met many new people from Portage, Madison and even a family from Texas who recently moved to Portage. There was also some good deals being sold at the flea market. I walked away with good food and good buys. The next flea market will be at the market square where we will be selling brats and hotdogs… See you there.
Debbie Little Volunteer.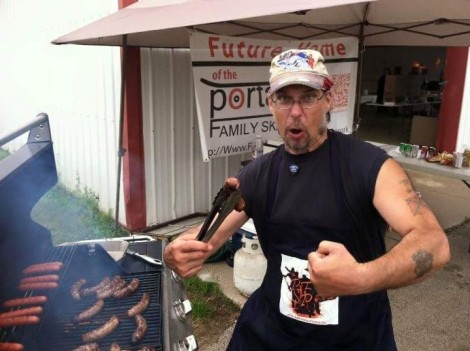 A growing movement in community volunteerism and organizational leadership in Portage is promoting cultural development and stability.
I am encouraged by the growing movement of community volunteerism and organizational leadership in Portage.  Committed to being an active and helpful part of the city, my wife and I have been inspired more, year after year, by volunteerism in Portage.  Community involvement builds trust amongst citizens, connects people to resources, provides opportunity for thoughtful reflection, and develops new leaders.  In short, it produces development and stability.
I have the privilege of connecting with many leaders and volunteers in the Portage community who are major contributors to the health and stability of the city.  These leaders and volunteers are people who passionately and skillfully draw the best out of everyone, developing unseen potential, for the betterment of the whole community.
Recently, I made the thoughtful decision to volunteer with the Portage Family Skate Park because they have the right leadership heart, an effective strategy, and a tried-and-true commitment to the health of your city.  These are the kind of people I want to be around because they make me and us better.  Together, we can do more for your future.
The Portage community is promoting cultural development and stability.  Join the positive cultural movement by considering the following action steps:
-Support the city's organizational leaders and volunteers.  When you don't like a decision or a cause, promote community togetherness by honoring one another.  Promoting your view positively without speaking negatively is appealing and healthy.  A culture of healthy discussions produces the best solutions.
-Volunteer to serve for an effective local cause that promotes development.  Volunteering means that you love your city and want to participate in it's culture creating a place where people can share values, exchange information and ideas, and advance cultural development.  There is nothing more fun than serving the community with the people you love.  Portage Family Skate Park volunteers meet
on Tuesday
,
5pm
, at the Gerstenkorn Admin Building, Room 20, 305 East Slifer Street.
-The greatest generation of Americans grew through the trials of the Great Depression.  They had a saying, "Count your blessings, name them one by one."  People who make time to consider their privileges live happily, enjoy work, produce positive results, and leave a legacy.
I'm excited to be a part of Portage's many active groups making a difference.
Jared Pierson Volunteer PFSP